Our 𝗦𝗨𝗥𝗘-𝗪𝗜𝗡 Scratch & Win IS BACK! To celebrate this festive new year, The Whale Tea Singapore will be organizing this Scratchcard event from 𝗻𝗼𝘄 𝘁𝗶𝗹𝗹 𝟮𝟴𝘁𝗵 𝗙𝗲𝗯 𝟮𝟬𝟮𝟮!
Prizes worth $22800 in total to be won!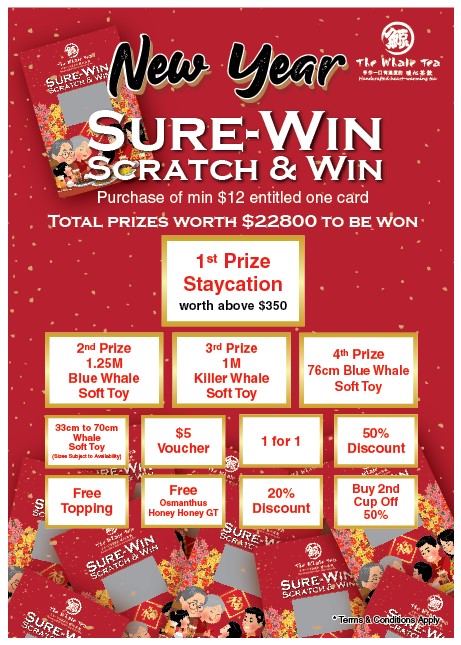 𝗛𝗼𝘄 𝘁𝗼 𝗽𝗮𝗿𝘁𝗶𝗰𝗶𝗽𝗮𝘁𝗲 𝗶𝗻 𝘁𝗵𝗶𝘀 𝗦𝗰𝗮𝘁𝗰𝗵𝗰𝗮𝗿𝗱 𝗲𝘃𝗲𝗻𝘁?
Step 1: Every customer is eligible for 1x Scratchcard for every $12 spent in 1 receipt
Step 2: Scratch away and win a prize!
𝗪𝗵𝗮𝘁 𝗮𝗿𝗲 𝘁𝗵𝗲 𝗱𝗶𝗳𝗳𝗲𝗿𝗲𝗻𝘁 𝗽𝗿𝗶𝘇𝗲𝘀 𝘁𝗼 𝗯𝗲 𝘄𝗼𝗻?
1st Prize: Staycation worth above $350
2nd Prize: 1.25M Blue Whale Soft Toy
3rd Prize: 1M Killer Whale Soft Toy
4th Prize: 76CM Blue Whale Soft Toy
Other attractive prizes includes:
– 33CM – 70CM Whale Soft Toy
– $5 voucher
– 1 For 1 Drinks
– 50% discount
– Free topping
– Free Osmanthus Honey Green Tea
– 20% Discount
– Buy 2nd cup off 50%
𝗧𝗲𝗿𝗺𝘀 & 𝗖𝗼𝗻𝗱𝗶𝘁𝗶𝗼𝗻𝘀
– The event runs from now till 28th Feb 2022
– Scratchcards are only given at the point of purchase, no redemption of scratchcards using past receipts
– Multiple receipts cannot be combined
– No Scratchcards will be redeemable after 15th March 2022
– One receipt can only redeem 1 Scratchcard
– Scratchcards are only redeemable over the counter at participating outlets
– Participating outlets: Lot One, Rivervale Mall, AMK 407, TPY HDB Hub, Jurong Point ONLY
– Only purchases made over the counter are eligible for the Event
– Prizes will be subject to stock and availability
– The Whale Tea reserves the right to amend or cancel the promotion at any time